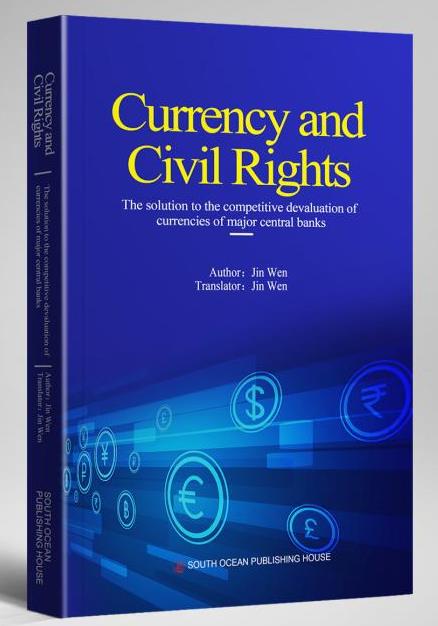 &nbsp&nbsp&nbsp&nbsp&nbsp&nbsp&nbsp&nbsp&nbsp&nbsp&nbsp&nbsp&nbsp&nbsp&nbsp&nbsp&nbsp&nbsp&nbsp&nbsp&nbsp
Book now
Title: CURRENCY AND CIVIL RIGHTS: THE SOLUTION TO THE COMPETITIVE DEVALUATION OF CURRENCIES OF MAJOR CENTRAL BANKS
Author: Jin Wen
English Translators: Jin Wen
Publishing Date: May 2023
ISBN 978-981-18-6533-6
Price: $57
Introduction
Subvert the mainstream currency theory in the world todayShow a path of hope and the only path.
The author and translator Jin Wen (金汶, pseudonym), whose real name is Jin Wenshui (金文水), was a professor of economics, enjoying the special allowance of the State Council of China so far, and now is a practicing lawyer. The author has published more than 100 papers on economics, philosophy, and law around reform and opening up in journals and newspapers such as China Social Science, Economic Research, Rural Economic Research, Red Flag, Guangming Daily, Liberation Army Daily, Economic Daily, Wen Wei Po, Jiefang Daily, etc. Published books include Reform and Development: Contemplation on Economics, Reform and Development: The Perplexity of Inflation and Deflation, and Currency and Civil Rights (Chinese version).
The author served as deputy mayor of Huainan City, Anhui Province, China; director of the Anhui Provincial Government Development Research Center, member of the Standing Committee of Political Consultative Conference of Anhui Province; and dean of the Administration College of Hainan Province.